Principal's Blog
14th December 2017
Today our Pupil Community Leaders visited a local care home where they sang and signed some Christmas songs.
Afterwards, they spent time talking to the residents, sharing mince pies with them and tested out the reclining chairs!
Everyone had a lovely time and beautiful friendships were made between the residents and children.
It is wonderful that there are no barriers in childhood, not age, disability, gender or race. Our children have today demonstrated a true Christmas message, one of acceptance and tolerance.
We look forward to spending more time with our new friends in 2018 thank you for making us so welcome.
Have a blessed Christmas
Pauline Corfield
Principal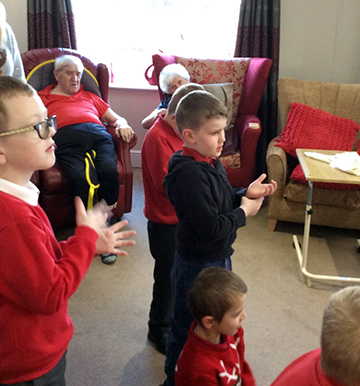 Students at local care home
15th November 2017
Last Thursday we carried out our act of remembrance. Nicky showed the children a very moving powerpoint explaining what Remembrance day is about and why we remember. Many of the children demonstrated a good understanding and asked questions such as " We remember the soldiers that died in the war"; " It is very sad."
Then the moment came for the minutes silence. Everyone expected there to be some noise as so many of our children have sensory needs and find assemblies a challenge at the best of times. The lights were dimmed and the timer started. The first 10 seconds seemed to last forever but not a sound was heard. The minute continued and so did the silence. The whole school was in the hall, 50 children sitting for a whole minute in total silence. It was a moment of total awe and wonder. One of those times where the hairs prickle and your heart is full.
When the minute had finished the screen moved to Flanders field and somber music played as the children left the hall clutching their poppies.
To say we are proud of children would be an understatement.
Another example of how amazing it is to be a part of Redgate Academy
Lest we forget
Pauline Corfield
Principal